5,000 people marched on the Lib Dem conference on Saturday to 'Rage against the Lib Dems'.
The march was organised by Right to Work and Sheffield Against the Cuts. The CWU mobilised. Friends of the Earth andthe local Save Our Sure Start campaign were there. There were lots of families and lots of home made placards.  The banging of drums filled the air.
A popular slogan on the march was "'Lib Dems get out, we know what you're all about, cuts jobs losses, money for the bosses".
2 Hours after the demo had ended hundreds of people were still demonstrating outside the conference.
There was a rally before the demonstration set off.
Tony Kearns from the CWU said march 26 has to be a start and the momentum has to be maintained and built.
Len McCluskey, general secretary of UNITE, praised the students fo taking direct action.
When Chris Bambery, national secretary of Right to Work, called for a General Strike there was a huge cheer.
Sheffield GMB announced that they're going for strike action by city council workers in two weeks time.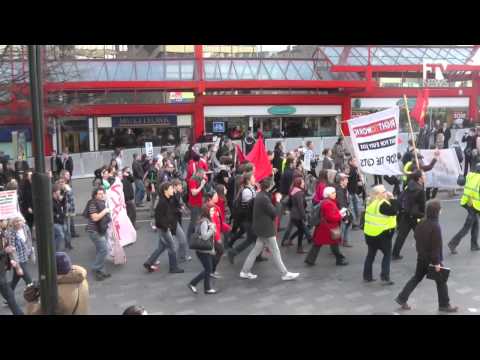 "WE lived through what Thatcher did to the mining communities in this area and we're not going to let the Tories and Lib-Dem liars do it again."
Teacher Ralph Dyson, who has led strikes at his school against 25 per cent job cuts, summed up the mood of determination amongst 5,000 angry protesters who brought the centre of Sheffield to a standstill as Nick Clegg and the Lib-Dems barricaded themselves in behind eight foot high fences. Welcome to Sheffield read the sign. And what a welcome!
There was a fantastic atmosphere. Young, old, black, white, students, pensioners, gay and straight. Teachers, social workers, nurses, railway workers, printers, council workers. Sheffield was up for a fight, solidly working class and united. The biggest demo for 25 years.
Ralph, NUT rep at Rawmarsh Community School in Rotherham, went on: "After the Lib-Dems came sixth in the Barnsley by-election their candidate called the people of Barnsley scum. But they are the real scum for propping uyp the Tories."
Social worker Liz could not contain her anger. "Clegg has lied, he's power crazy, he's broken all his promises, he's more Tory than the Tories–at least you know what you're getting with Cameron and the Tory wreckers. I voted for the Lib-dems as a protest vote against Labour and we still got the Tories. I absolutely hate them, with venom."
Alice Holliday and Lauren Henry, both 18-year-old sixth-formers, had no doubts that the Lib-dems would pay the price for their betrayal on tuition fees.
"I'm here because of tuition fees and all the other cuts, because Clegg and the Lib-Dems have gone back on what they said they would do," said  Alice, from High Storrs school.
Said Lauren from Tapton school: "I don't think Clegg has got any backbone, he's got in and rushed for power and people will remember for a long, long time."
Civil servant Ian Storey wanted a general strike. "I would like to see all the unions fighting together. The main thing for me is pensions, we've paid in for years and years and now they say we will have to pay more, work longer and get less."
Sam, one of the campaigners against 25 per cent cuts in Surestart, told the crowd: " That level of cuts will be devastating for parents. We can't let this happen without a fight."
Student Max was cheered when he said: "I'm angry that the people making the cuts are here in our city. We have to fight back together. There are national strike in the colleges on March 24 and other student protests.
"We have to follow the example of Egypt. On March 26 on the TUC demo in London we have to turn Trafalgar Square into Tahrir Square."
Paul Brandon, chair of the Right to Work campaign, won applause when he said: " We need to start occupying, taking direct action and we need coordinated strikes that can lead to a general strike."
400 people had protested outside the Conference on Friday night. 100 people cycled round the city with a sound system advertising today's demo.
Friday's demo rattled the Lib Dems. There is a formidable Green Zone around the conference centre.
Over £2 million of public money is being used to 'protest' the Lib Dem conference. What do they need protecting from? The people of Sheffield who turned out to protest against ConDem policies.
After the demo Right to Work held a public meeting.
Martin Meyer, Sheffield busworker and Unite NEC member, reported that 100 Sheffield busworkers and their families are travelling to London for the TUC march against the cuts on 26 March. That's never been achieved before. Joining him on the platform were Green Sheffield councillor, Gillian Creasey, and UCU regional organiser for Yorkshire and Humberside, Liz Lawrence plus Paul Brandon chair of RtW.